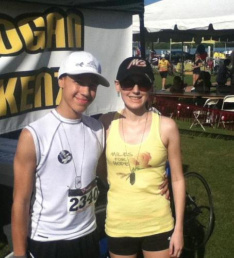 With great love and pride we are once again supporting the awareness of Brain Tumors. We come to you today requesting support by way of donations and participants for team Chaz's Angels.
Chaz Fermin , a young and spirited boy, filled with will and determination was diagnosed with medulloblastoma , a form of brain cancer on August 31, 2010. Please help us support Chaz and Miles For Hope as we move one step closer to a cure. He has been selected as this year's Ambassador of the event. Chaz completed the Clearwater 5k for team Kick Cancer's A.S.S. and we were all so proud of him. Logan Florin the young lady in this picture is also battling the same form of cancer as Chaz. So we all decided to join forces for Chaz and ~ " For all those who fight and those that got their wings, we walk for you"
Alex first met Logan at Moffit during her first round of radiation.  She then met Chaz at All Children's during one of her stays there.  Both of these amazing teens became close friends of Alex and it is in her honor that we want to support them in their battle.  We have a goal of 100 walkers and are hoping to raise $5,000.  I know we JUST did this in September but were doing it again!

 You have all been such an amazing support system for Alex and her family and now we are asking  you to reach out to others, like Alex, who are battling this horrible disease.  Thank you all for all you do! Stay tuned for some upcoming fundraisers and events in honor of our Angel Alex.
If signing up to walk with us be sure to tick the box next to "Join a team" then  select "Chaz's Angel's." after agreeing to the waiver. Also, if you are not able to be there you can be a Virtual Participant and get an event t-shirt.