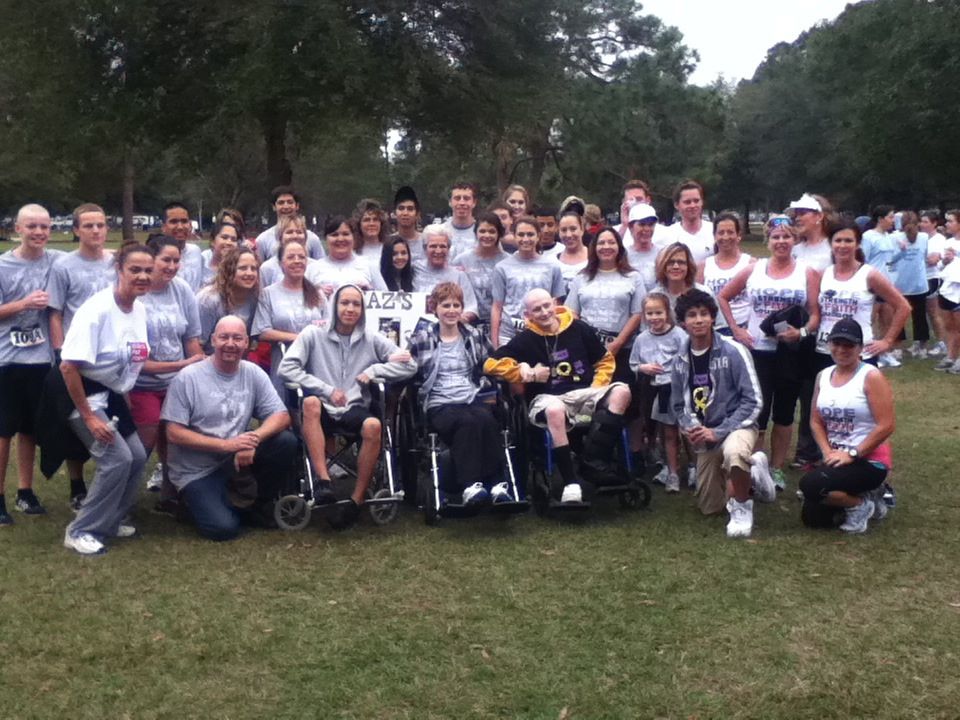 Hello everyone, I thought I should update you on how I am doing. First I would like to say thank you to everyone who still visits Alex's website. I know there have not been any post lately and I will try to update more. So going back to last year. The Tampa Miles for Hope walk for Chaz was a great success. Our team raised over 5k and we had the largest team of over 100 participates. That day also brought us great sadness as Robert Gibbs the founder passed away. His legacy will live on through his wife Barb and all the work they have done together starting Miles for Hope. He was an amazing man with a vision that we would one day find a cure for Brain Tumors/Cancer.
The holidays were very hard of course. I spent thanksgiving at my Aunt Mindy's house and they all dressed like pilgrims and Indians. It was funny. Tom was able to come home for Christmas , so we were happy about that. Tommy had a nice Christmas and that was what was most important to me. Putting up the tree brought both smiles and tears. I have so many ornaments Alex made throughout the years. I was happy to get to see my niece Lydia. She can always put a smile on my face. We lit a candle for Alex (it was in a candle holder she made in 2000 at preschool) , Lydia leaned over a gave me a kiss, it was so sweet.
On December 4th , All Children's Hospital had a special Memorial for all the Children who passed away in 2011. It was an extremely difficult day.  There will so many children who went to heaven.  They allowed only 8 families to give a speech and fortunately I was able to have Julia give a speech. She did an amazing job.  She has grown up so fast and I admire how well she does speaking in front of a room full of people.  They gave each family a special ornament engraved with their child's name.
Two days after Christmas is where it all had began, so the days after Christmas were all reminders of the journey of Alex fighting Brain Cancer. Even though she did not win the fight , she was Strong, Brave and nothing short of an amazing young lady. During Alex's treatments last year she met 3 special kids. Logan , Chaz and Blake. All three of them completed their last Chemotherapy recently. I stay in close contact with all of them and I know Alex is watching over them from Heaven.
I was ask to be a administrator on a Face Book group called Brain Cancer Family Angels. It is a spinoff of Brain Cancer Family, a site I visited frequently during Alex's treatments. The admins decided to start the Angels group after Alex passed away. We now have 89 members. That is 89 people who have lost a loved one to Brain Cancer. Although it is sad , its a place where others know how you feel. I was very honored to be ask to help the group. The most exciting news is that I will be meeting many from this group in May ( Brain Cancer Awareness Month). I will be attending the RACE FOR HOPE, in DC. I am so excited. There were over 11,000 people last year. I have never traveled by myself but if my niece Julia can do it, I am sure I can. LOL Well that's all for now. Please check back as I plan to update more and post pictures of my trip to DC.
Love to everyone,
Erica